Our programs, both in-person and online, support individuals as they navigate life and work transitions and a desire for self-renewal.
Current programs:
• Purposeful Living Series virtual events with Vail Symposium
• Purposeful Living Experience in-person event with Vail Symposium
• *RoundTables™ (year-long small-group dialogues with monthly meetings)
• Book Club with the Author dialogues
• Café Conversations
RoundTables:
RoundTables™ (year-long small-group dialogues with monthly meetings) consist of small groups exploring purpose, values, vision, and new possibilities and plans, with personal stories, questions, and experiences shared in dialogue.
These groups gather over time (e.g., monthly over a year), with mentorship and intergenerational exchanges. Affinity groups based on age, interest, profession, as well as those with diverse, cross-sector representations are mentored through a "wise elder" program. This year, we've launched two RoundTables with small groups in the Vail Valley, hosted at the 4 Eagle Ranch, and we're currently planning more RoundTables. Contact us to learn more or express interest in this transformative experience.
These gatherings will come in different versions, including fireside chats with outdoor components, workshops, and more.
Events and Symposia:
Events with speakers and engaging activities for participants—sometimes run by us, other times in collaboration with others.
Learn About Our Events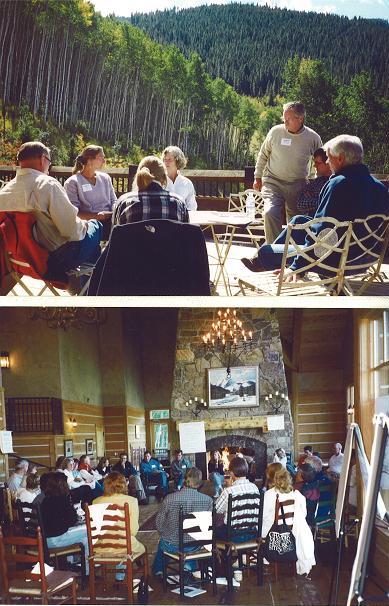 Future programs may include:
• Workshops
• Webinars
• Purposeful Living Checkups
• Back to Nature events (Hiking/Skiing/Snowshoeing with Purpose)
• Day at the Yurt dialogue
• Retreats
Testimonials
"Stepping away from the daily grind and disconnecting is something we all need to do, and probably now more than ever. This program has not only allowed me to do that, but also to dig down deeper into myself than ever before to find more strength, power, and wisdom than I thought I had! It has been a breath of fresh air and a means to realizing the strength of small groups and that thought-provoking conversation the old-fashioned way can still be had." -Laura Emrich, Regional Sales Manager, Advanced Exercise
---
"The retreat was just priceless for the opportunity to take a break out of our days and to reflect on what matters the most in life (where we'd like to be and how to get there). The weekend was priceless for me to learn and connect from others and hearing their stories and how they faced the issues that they were up against. I am looking forward to a rejuvenated group moving forward and making a significant difference in the community together. As always, I walk away from one of those weekends feeling like I'm on fire. Thank you for creating that feeling and supporting it." -Seth Ehrlich, Executive Director, Snowboard Outreach Society
---
"I have thoroughly enjoyed the company of each and every participant in the RoundTable. I have learned much, appreciated the camaraderie and the wonderful insights that each person has provided to me and my business. Listening, learning, and experiencing the different viewpoints was so very rewarding. The RoundTable was a very worthy endeavor—actually priceless." -Linda Hill, President, Hill Aveium Marketing
---
"I appreciated the chance to meditate and reflect on my life and to slow down to enjoy God's creation in a wonderful setting." -Riz Shakir, entrepreneur
---
"I can't tell you how much I have enjoyed each of you, your insights, and your friendship. The RoundTable is such a valuable concept and gave me a chance to explore business problems and situations that I couldn't with anyone else. You are an exceptional group of people, and I do hope to reconnect with Vail Leadership in the future. So, thanks to each of you. I will truly miss meeting with you." -Jeannie Malato, General Manager, The Chateau Residence Club
---
"When I was starting Gore Range Natural Science School, now Walking Mountains Science Center, I needed all of the support I could muster up—mentally, spiritually, financially, and otherwise. I found all of this, and more, through my participation in these programs. In-depth dialogues with other community members and thought leaders such as Peter Senge, Terry Minger, and David Burger provided me with insights and networks that inspired my work and helped me grow Walking Mountains in the early days. Opportunities to get to know community members on deeper levels and participate in important conversations while setting our assumptions and geographic boundaries aside is one of the most valuable contributions. I am grateful for all of the personal and professional growth I have gained, and continue to build upon, through VLI's community-focused programs." -Dr. Kim Langmaid, Mayor, Vail; Founder, Walking Mountains Science Center
---
"When I first experienced the Inside First framework through a weekend retreat, I was excited to be more reflective and focused in the way I lived my life. Little did I know how it would be a catalyst for drastic change in my life. I had been a high school social studies teacher for 8 years when I first began with Inside First and was loving my role in the classroom as well as many other opportunities to be a part of our local community. As a result of this weekend retreat and opportunity to better explore my Values, Purpose and Vision, I walked away with some tools to really focus my energies on what I now clarified as my life's purpose: To be a blessing. It sounded simple, maybe too simple. But my peers agreed that it fit what I had described in my life story and values throughout the weekend. So I continued in the classroom for 2 more years and truly loved that calling on my life but felt prompted to move on to the next thing. I left for 9 months of travel that turned into 18 months of exploring 4 different continents, sleeping in over 160 beds. I declared this a sabbatical as well as some 'market research' and 'product testing' in the field of hospitality. My dream had always been to open a Bed and Breakfast. Over 2 years of travel, it became clear that Spain would be where that would happen. The story is a wild one but the bottom line is that doors simply opened and I walked through them with gratitude. With a full heart, I ran a guest house for pilgrims walking the Camino de Santiago in Galicia for the summers of 2016 & 2017.
Tears come to my eyes as I think back to the last exercise of that weekend retreat where I first experienced Inside First. We were instructed to close our eyes and envision the scenario in which we were fully living out our purpose, in line with our values, gifts and talents. My Vision was sitting around a table with people from all over the world, sharing stories, and eating good food. That vision happened every afternoon at 6 during 'tapas' at Casa Licerio. Guests were invited to join me in the 'pilgrim room' for a glass of wine and some savory snacks as we shared where we had been and where we were going. And as I reflect on where I've been, I see the role Inside First has played.
As I continue to add chapters to my story, I always come back to my life's purpose that was crafted at the Inside First retreat in 2011. I've become much more selective in the projects that get my 'yes' as I consider if it truly helps me to live out my purpose of being a blessing." -Ashley Weaver Devenyns, former proprietor, Casa Licerio, Samos, Spain; curriculum writer for Weaver's World, Bainbridge Island, Washington